18 August 2022
Fun family summer holiday plans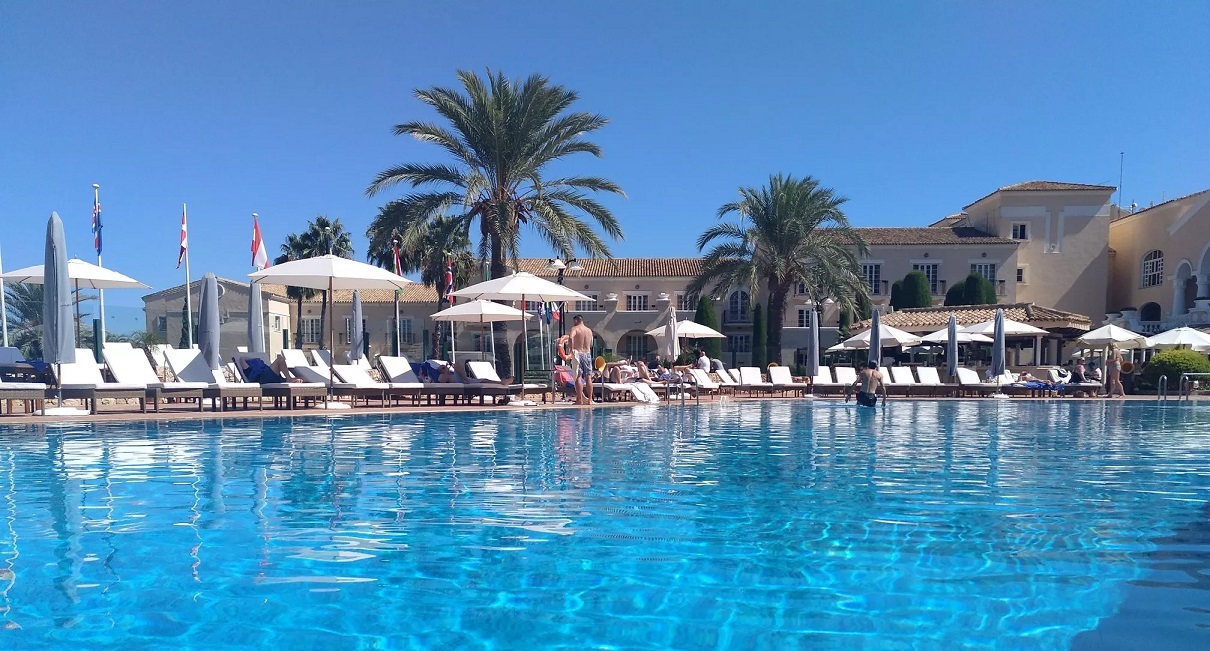 When looking for a destination for a family holiday, sometimes you have to make a real jigsaw puzzle to find an option that is to everyone's liking. It is not always easy to find the perfect destination, services or features to enjoy time with your children. That is why La Manga Club triumphs as a top destination for holidays with children. Our hotel offers a wide range of plans for all the members of the family unit, which are impossible to resist. The combination of sports, nature and activities in the La Manga Club catalogue is designed to enjoy an original holiday with children, a holiday you will always remember!
Different holidays with children
In the hottest months of the summer, to escape from the traffic jams and routine after a hard year, you and your children deserve a different kind of holiday. If you are thinking about where to go on holiday with your children, we encourage you to take a look at all the services for families that La Manga Club has for you.
The summer season invites you to enjoy your time where it really matters. That's why it's so important to get organised beforehand and prepare your summer holidays with your children, well in advance. If you want a different kind of holiday that you can remember during the harsh and cold winter months, we invite you to discover an original way to enjoy your holidays with your children, combining sport, nature and the sea.
An unbeatable golfing offer
Golf enthusiasts have the opportunity to continue enjoying their favourite sport at La Manga Club thanks to the three marvellous courses on offer. Three 18-hole courses that place La Manga Club among the best golfing complexes in the world. Three different challenges to face depending on your level and enjoy every shot. Robert Dean Putman, Dave Thomas and Arnold Palmer are behind the design and remodelling of the three courses.
La Manga Club also offers the chance to improve your handicap at its renowned golf academies and practice areas. The main objective of the new Golf Academy is to help you enjoy golf more. To this end, it has a team of professionals ready to help both those who have never picked up a club before and amateurs who want to lower their handicap. 
The golf training offer is available in several languages and includes the most advanced techniques so that adults and children alike can enjoy this beautiful sport. The most popular option of the golf academy for adults is the "5 days Total Golf Experience", but there are many other possibilities that combine technology and theory with games and practice on the course. The children's golf academy for 6-16 year olds is in increasing demand every year and is a great sporting activity to introduce our children to the sport, as it is offered for people of all levels. 
Exploring the nature of Calblanque
The Calblanque, Monte de las Cenizas and Peña del Águila Regional Park hides some of the most incredible beaches in the Region of Murcia. This natural spot, with its beaches of darker sand than usual and its autochthonous fauna and flora, is a perfect activity to do with the family on holidays. Depending on the time of year, this excursion can be done in your own vehicle or you will have to use the bus service. Ask us beforehand and we will help you to schedule the activity.
Diving baptism in Cabo de Palos
Las aguas cristalinas, unos fondos marinos únicos y el encanto de un pequeño pueblo pesquero son parte del secreto de la Reserva Marina de Cabo de Palos. Un lugar perfecto para iniciarse en el buceo y vivir la experiencia de un bautismo en el mundo submarino. 
La situación, la temperatura del agua y la riqueza marina de sus aguas convierten este pequeño enclave, situado a escasos kilómetros de La Manga Club, en el rincón perfecto para vivir una experiencia única de vacaciones en familia.
Water sports in the Mar Menor
The Mar Menor, at the foot of the La Manga Club resort, is a paradise for water sports. Whether you want to enjoy a day of sailing on board a small catamaran or windsurfing, the calm waters of the Mar Menor are a great place to gain confidence and enjoy a different activity for the whole family, and other fun things to do with children in the Mar Menor include paddle surfing and water skiing. The nautical day comes to an end with a unique sunset, which will captivate those who visit. 
Kids Club for children to reinforce their English through games and activities

We want La Manga Club to be the place to go on holiday with children, so we try to make our resort a place full of fun and possibilities for everyone. During the summer months we offer our clients a summer camp for children which offers fun activities such as cooking classes, art workshops, mini golf, arts and crafts, yoga, water games, adventures...
A whole children's universe, run by a team of educators and entertainers so that the whole family can enjoy their holidays as they deserve.
The Kid's Club also offers the possibility for children to improve their knowledge of English through games and activities with native English children. This activity not only introduces the children to new cultures but also helps them to reinforce their language learning.
Tennis academy
If racket sports are your thing, The Racquets Club is a must. The programmes and activities designed at this club are adapted to any age, level and duration. Thanks to an energetic and professional staff of coaches, fun training sessions are offered, where great progress is made in reinforcing one's sporting skills.
The centre has almost 30 tennis courts (clay and artificial grass) and seven more paddle courts so that all clients can begin or improve their technique. For high-performance athletes, there is a specific programme. 
Treatments and care to recharge your batteries
The Hotel Príncipe Felipe 5* has several treatment and wellness rooms among its facilities. Relaxing or invigorating massages to recover your body after an intense day or a hard time. Treat your partner to a treatment that fills their body and skin with vitality, while your children attend any of our sports academies.
The centre also offers a wide range of beauty services ranging from exfoliating treatments to manicures and pedicures, as well as all types of hair care and depilation.
More activities and football academy
La Manga Club Resort has its own football academy with qualified and UEFA certified coaches. In addition, during the summer months it is common for the facilities to organise sports camps for some important football clubs, which makes the resort an important centre for learning or improving your skills in this sport.
Book now at La Manga Club and benefit from special conditions (*)
Now when you book at La Manga Club you will get a spending credit of 15 euros per room per day so you can enjoy it in the restaurants run by La Manga Club, as well as in the treatments and massages at the Hotel Príncipe Felipe 5*. 
If you book before 31 August you will also have the option to cancel your room free of charge up to 3 days prior to arrival, so you don't have to worry about any unforeseen circumstances. 
Enjoy an unforgettable stay and enjoy these and other promotions that we invite you to discover by making your reservation by clicking here now.